Melissa Stewart, M.S.Ed.
---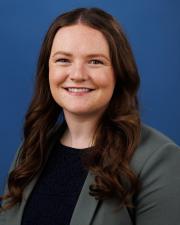 Contact Info
Strong Hall Room 132
Lawrence
1450 Jayhawk Blvd
Lawrence, KS 66045
---
Biography
—
Melissa Stewart serves as Director for Student Conduct and Community Standards. As Director, she is responsible for maintaining the community standards of the university and holding students accountable for alleged policy violations. Through her role, Melissa centers students' development & personal growth while educating them about their responsibilities to their community and helping them evaluate the impact their behaviors have. 
Melissa received her Masters in Higher Education Administration from the University of Kansas and Bachelors of Business Administration degree in Marketing from Baylor University. Melissa previously served as Assistant Director for Student Conduct and Community Standards (SCCS), Program Coordinator for the Student Involvement and Leadership Center (SILC), as well as a Graduate Intern in SCCS and Graduate Assistant in SILC.